| | |
| --- | --- |
| | Advantages |


• No more Spam
• No more viruses
• All your e-mail addresses in one place
• No software to install
• No updates required
• User-friendly interface
• Secure and time-saving solution
• Accessible all over the world
• No false-positives

(legitimate e-mails will not be wrongly marked as Spam as is the case with traditional anti-spams)

• Access your e-mails, including Hotmail

®*

, from your favourite e-mail software (

Outlook, Thunderbird, etc.

)




Overview

MailPatch is a revolutionary e-mail management service for all your inboxes

• MailPatch permanently protects you from Spam and Viruses thanks to its innovative technology.
• With MailPatch you can access all your inboxes through your Personal Space, you don't need to switch from one e-mail provider to the other anymore.
• Last but not least, MailPatch offers you a real Virtual Desktop, including an online data storage (virtual USB Flash drive), Internet favorites, customizable RSS news fews, and much more!

Video: MailPatch overview

(new video soon!)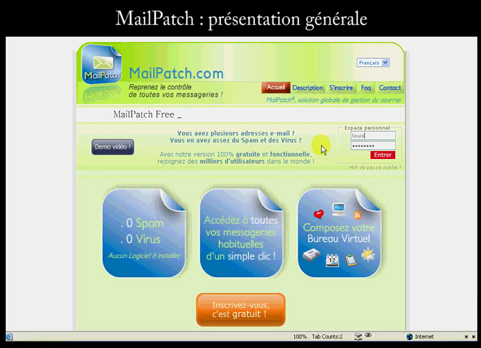 (Recommended screen resolution: 1280x1024. Lower resolutions: press the F11 key to enlarge the webpage)
▪ Innovative technology
Unlike traditional anti-spams, MailPatch uses an innovative technology called sender identification. The first time you receive an e-mail from a sender, the sender receives an identification request in return. He must type a simple code to prove he is not a spam robot. He only needs to do this simple procedure once.

--> So, if your contact is unknown, you don't need to do anything, he identifies himself.


From now on, you can safely give out your e-mail addresses.

▪ Bring all your e-mail addresses together
MailPatch retrieves e-mails from each of your inboxes. You don't need to switch from one inbox to the other anymore! And, you don't need to remember and type your logins and passwords anymore!

From now on, access all your e-mail addresses with only one click!

▪ A fully customizable Virtual Desktop
Your homepage becomes an entirely customizable Virtual Desktop. You can personalise it as you like: an organizer, a virtual USB Flash drive to store your data, a word processor, hundreds of RSS news feeds, Internet favorites, Memo, weather forecast, horoscope, Stock Market, and much more!

From now on, you can see all the latest e-mails of your respective inboxes at a glance.

▪ Customizable e-mail management
Depending on the version chosen, you can identify your regular contacts in advance, block an inappropriate contact by adding him to your red list or black list, customize your identification request, choose the number and frequency of your e-mail summaries and statistics, etc. You can therefore manage all your e-mails through your Personal Space.

▪ Choose your interface
With our Webmail, you can read your e-mails from any computer all around the world. You can also use your favourite e-mail software (Outlook®, Thunderbird®, etc.).

This means Hotmail® users can also read their e-mails directly from their favourite e-mail software!
Features common to both versions
Common features
Free
39 €/year
100% Spam elimination
Keep all your current e-mail addresses

Fully customizable Virtual Desktop
No software to install and no updates required
Antivirus included
Compatible with Hotmail, Gmail,
Yahoo, etc. *
Webmail + POP
(Outlook, Thunderbird, etc.)
Registration without conditions, spyware, or time limit
Number of identification requests sent
2
2
Length of time during which non-rejected e-mails are kept

unlimited
unlimited
Total storage capacity
(mails + Virtual USB Flash drive, see FAQ)
4 GB
4 GB
*see Terms of Use
Differences between both versions
Different functions
Free
39 €/year
Number of protected e-mail addresses
3 or more*
5 or more*
Storage of rejected e-mails
(Spam, virus, black list, etc.)

15 days or 1,000
rejected e-mails
30 days or 10,000
rejected e-mails
Statistics and summaries
daily, simple
multiple, detailed
Pre-identification of contacts
-
Technical support
-
No banner advertising
-
Customizable identification message
-
Anti-virus (can be deactivated on demand)
-
Advanced ergonomics
-
Red list (message sent to blocked senders)
-
Green list (highlighting the senders chosen by the user)
-
* Additional e-mail address: 9 € /year per protected address